3586 Sunny Brook Road
Kent (Brimfield), OH 44240
Tel: (330) 673-7667

Fax: (330) 677-3103
E-mail: sbconcrete@aol.com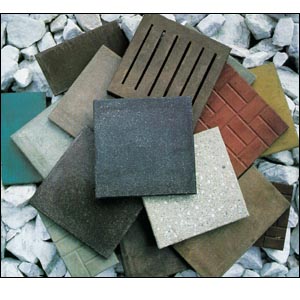 SUNNY BROOK CONCRETE PRODUCTS AND INSTALLATION GUIDELINES
Hydraulically Pressed Concrete Pavers with the Density and Strength of Stone
Sunny Brook Pressed Concrete Pavers are manufactured on a hydraulic European press that utilizes 460 tons of pressure to eliminate excess water and air from the wet concrete mix to provide a superior Paver. Precision molds are used to provide uniform size and texture to each batch of Pavers.
Sunny Brook Pavers have a minimum compressive strength of 8,000 pounds per square inch (psi) (55,152 kPa) that can be increased upon request. Pavers have a water absorption rate less than 5% and a density of 166.1 pounds per cubic foot (pcf) (2660.58 kilograms/cubic meter (kg/m³)). The compressive strength, density, and lower water absorption rate insure a premium Paver and quality installation.
Sunny Brook Pavers are typically not reinforced. They can be manufactured with welded wire reinforcing to meet an architect's or engineer's specifications.
Technical specifications for a typical Sunny Brook Paver can be reviewed at Specifications.
Sizes
Sunny Brook Pressed Pavers are available in the sizes as shown in the chart. Paver thickness ranges from 1-1/4" (32 mm) to 4" (102 mm) upon specification. Standard thickness is 2" (51 mm).
Sizes below are nominal dimensions (Additional Paver sizes are available):
| | | |
| --- | --- | --- |
| 12" x 12" | (305 x 305 mm) | Special Order |
| 12" x 24" | (305 x 610 mm) | |
| 15" x 15" | (381 x 381 mm) | |
| 15" x 30" | (381 x 762 mm) | |
| 18" x 18" | (457 x 457 mm) | |
| 18" x 24" | (457 x 610 mm) | |
| 24" x 24" | (610 x 610 mm) | |
| 24" x 36" | (305 x 914 mm) | |
| 30" x 30" | (762 x 762 mm) | |
| 36" x 36" | (914 x 914 mm) | Special Order |
ADA compliant Tactile Warning Pavers are available in all sizes – contact Sunny Brook Concrete representatives for additional information. Pressed Concrete Drain Grates are available in all sizes.
Colors
Sunny Brook Pressed Concrete Pavers are available in an unlimited variety of colors. We will blend specific colors upon request. Because our pavers are made using natural materials, colors may vary slightly. Contact our sales office for actual color samples.
Finishes
An unlimited number of finishes are available for Sunny Brook Concrete Pressed Pavers, including brick faced, diamond, quarry (Architectural), and unlimited texture with your choice of aggregate for an exposed aggregate finish.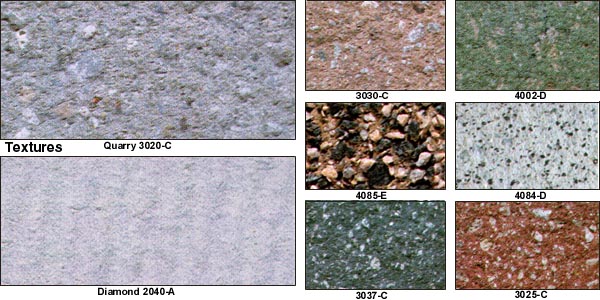 Paver Piers
---
Sunny Brook Pressed Concrete Company manufactures and distributes Sunny Brook Paver Piers.
Paver Piers are used on terraces, plazas, and waterproofed membrane roofs. The Paver Piers roofing system features excellent drainage, provides air circulation, and reduces heat and sun exposure for the protection of the membrane. Paver Piers also provide uniform and even spacing for Sunny Brook Pressed Concrete Pavers.
Paver Piers can level any problem areas by multiple stacking and implementation of 1/16" and 1/8" shims to level all surfaces. Paver Piers can be easily disassembled into four sections for use on corners and borders.
Paver Piers can accommodate custom designs to fit special paving patterns.
Please contact Sunny Brook Concrete representatives.
Paver Piers are placed under the corners and at the midpoints for increased stability and support in heavy traffic areas such as window washing equipment, vehicular traffic, etc.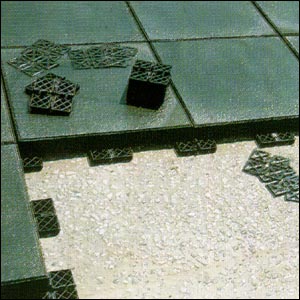 Paver Pedestals
Pedestals are 5-1/2" x 5-1/2" (140 x 140 mm) and available in three thicknesses: 1/16", 1/8" and 5/8".
Please refer to following CAD drawing "Paver Pedestals" attached to this profile.
Low Temperature Brittleness: ASTM D746: -95° F (-71° C)
Shore Hardness: ASTM D2240: D62
Sunny Brook Concrete Paver Installation Guidelines
1. Sand-Set Method:
Sand shall be screeded to proper pitch and height so that final installation will result in proper surface drainage and butt flush to adjacent surfaces. Lay pavers on sand bed, taking care not to disturb screeded sand bed. Set with hand tight joints unless specified. Otherwise maintain proper join alignment, keeping lines straight and true. Cut Pavers with masonry saw to fit adjacent structures. After installation of the Pavers, vibrate lightly with rubber roller type vibrator to bring units to even plane. Sweep clean mason sand into joints, to a point slightly below the top surface of the Pavers.
A. Light duty walkways – Pavers may be set in a one to two inch thick sand bed over existing subsoil provided that soil is stable and well drained.
B. Vehicular traffic and heavy-duty industrial areas – a sub-base of four to 10 inch of compacted gravel shall be installed and compacted by the contractor before installation of sand bed. Sand bed shall be a uniform thickness of one to two inches.
2. Pedestal Method:
All waterproofing, protection and other related work that will be beneath Pavers shall be installed prior to the beginning of the paving installation
A. Installation by pedestal method shall be used for foot traffic areas only.
B. Surfaces under pedestal and paving units shall be clean and free from debris.
D. Paving units shall be installed in accordance with the design layout.
E. Pavers shall be installed in an even plane with no noticeable unevenness.
Cleaning – at completion of work, remove rubbish, debris, dirt, equipment and excess material from the site. Clean adjoining surfaces that were soiled by and during the course of work.
For additional references on installation call Sunny Brook Concrete representatives.
---
Copyright(c) 2003 Sunny Brook Pressed Concrete. All rights reserved.
sbconcrete@aol.com